For the latest updates, see the new blog post.
UPDATE Jan 30th, 12pm: the mummies of Tutankhamun's great-grandparents damaged?
UPDATE Jan 30th, 2pm: golden fan of Tut damaged, Dr. Zahi Hawass confirms damage to at least one Tut statue
UPDATE Jan 30th, 4:30pm: confirmation of theft from the former director of the Egyptian Museum; Memphis Museum also looted
UPDATE Jan 30th, 5:30pm: statement from Dr. Zahi Hawass posted on his blog
UPDATE Jan 31st, 11am: at least two of Tutankhamun's gilded statues safe
UPDATE Jan 31st, 1:40pm: new photo showing damaged mummy heads, Hawass appointed Minister of Antiquities
UPDATE Jan 31st, 2:50pm: damaged mummies very unlikely to be Yuya & Tjuya
UPDATE Jan 31st, 3:50pm: raw footage used by Al Jazeera shows Tut figure from panther statue still in the museum
UPDATE Jan 31st, 11:20pm: various reports about extensive damage or lack thereof at Saqqara & Abusir from an Egyptian antiquities inspector, Professor Miroslav Bárta, & Dr. Hawass
UPDATE Feb 1st, 12:45am: two new photos of damage from the Egyptian Museum
UPDATE Feb 1st, 9:40pm: another update from Dr. Hawass and further worrying reports suggesting damage/looting at Saqqara & Abusir
UPDATE Feb 2nd, 12:45am: Facebook group Egyptologists for Egypt says reliefs from the tomb of Maia at Saqqara hacked out EDITED-Maia or Maya?
UPDATE Feb 2nd, 11pm: further suggestions of looting at Saqqara; Salima Ikram trying to assess the situation on the ground
UPDATE Feb 3rd, 9:20am: Salima Ikram reporting from Saqqara
UPDATE Feb 3rd, 4pm: another statement from Dr. Zahi Hawass, photos from the museum, including one of the mummies
UPDATE Feb 4th, 1am: an update from the Dutch team at Saqqara says Abusir & Saqqara looted, a report of pharaonic statues seized in Algeria
UPDATE Feb 4th, 11:50pm: more reports of Saqqara & Abusir under attack, Dr. Hawass says untrue; a report from the Fayum; and supposedly looted statues in Algeria are fakes
UPDATE Feb 5th: for the latest updates, see the new blog post
Devastating footage from Al Jazeera posted on Twitter and Flickr now shows significant damage and destruction in the Egyptian Museum in Cairo. Some of these images can be found at these sites. The footage appears to show wooden statues from the tomb of Tutankhamun with the gilded figure of the king ripped from the smashed bases. Images below show the statues in their original state, and their current condition:
Middle Kingdom models of daily life and their have been smashed. The damage on the famous army of Mehseti doesn't seem to be too severe thankfully, but other beautiful models are broken and strewn on the floor.
It is an incredibly sad state of affairs as we await news of the full extent of this destruction of history.
UPDATE: I've now identified the smashed wooden boat as also belonging to the tomb of Meseti at Asyut (Cairo 4918). It's one of the largest model boats in existence, measuring over 1.5 metres, and it dates to approximately 2000BC, so over it's 4000 years old. Very sad.
Here's a photo of it from it's original publication back in 1913, but you can also follow this link to see a photo of it as it looked in the museum.


UPDATE: Watching the actual video footage of the museum from Al Jazeera, I regret to say that I think you can spot at the 1 minute mark (see a screen capture and the video itself below), footage of another destroyed statue of Tutankhamun, one of the two statues depicted below (photos care of the Griffith Institute Archive's Tutankhamun collection). Amendment, Jan 31st: it appears that these gilded sandaled feet also belong to the panther statue. See update from Jan 31st, 11am below for further info.
For a colour photo of these statues, see these photos from the blog of Richard Seaman.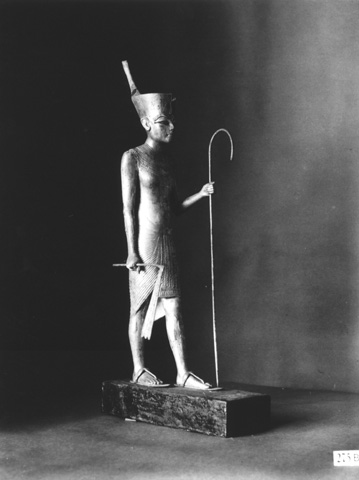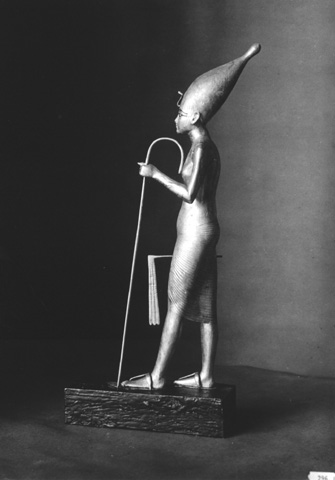 ANOTHER UPDATE, 30th Jan 12pm:
In the comments, Tamakazura has correctly identified the gilded open work cartonnage case shown on Al Jazeera as belonging to Tjuya, mother of the great Queen Tiye and great-grandmother of Tutankhamun. Below you can compare a photo from The Complete Valley of the Kings, p. 176 and the still from Al Jazeera. The case was placed directly on Tjuya's body, so it is doubtful that it could have been removed without damaging her mummy. This suggests that the two mummies mentioned by Dr. Zahi Hawass as being beheaded and severely damaged may be those of Yuya and Tjuya. Aiden Dodson has been able to confirm that the case was displayed separately from Tjuya, so her mummy has not been damaged. They are important historical figures as well as two of the best preserved mummies from ancient Egypt, so it would indeed be tragic if this is true. I hope that the incredible burial assemblage found with them, one of the most celebrated discoveries in Egyptology, has not suffered also.


Also, in this Al Jazeera report, Dr. Zahi Hawass, comments on the damage at the museum:

UPDATE, 30th Jan 2pm:
The gold fan head featured in the Al Jazeera footage appears to be a fan belonging to Tutankhamun. Here is a photo from the original excavations courtesy of the Griffith Institute- the fan in question is on the far left- and a screen shot of the fan lying in the museum. At least it appears that only the shaft has been broken off and the decoration has been left intact.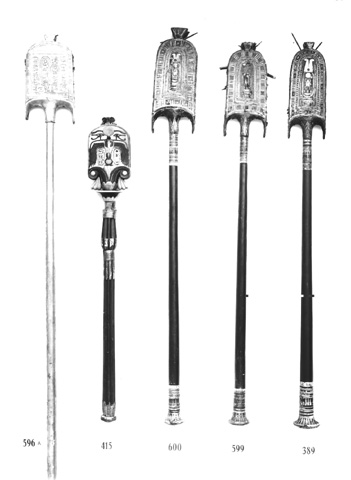 Dr. Zahi Hawass, Secretary General of the Supreme Council of Antiquities, has confirmed damage to at least one statue of Tutankhamun. I fear it may be more, but I hope that Dr. Hawass is correct that the damage is minimal. At least his comments are reassuring about the current security situation at the museum, as well as some inspiring words for the Egyptians who attempted to protect the museum.

UPDATE, 30th Jan 4:30pm:
Zeit Online (in German and translated into English) has posted an interview with Wafaa el-Saddik, the director of the Egyptian Museum up until very recently, who says that 13 cases have been smashed, some objects have definitely been stolen, the looting of the museum was an inside job by guards and police, and that the museum in Memphis has also been looted.
UPDATE, 30th Jan 5:30pm: Dr. Zahi Hawass has posted a statement on his own blog. He confirms the destruction of one of the Tutankhamun panther statues. I should also clarify concerning the Tutankhamun statues that have been smashed, that each of them belongs to a pair of statues, and one can only hope that the statues' twins have survived the damage. See below for images from the wonderful Griffith Institute of the statues as they were found in situ in the Valley of the Kings: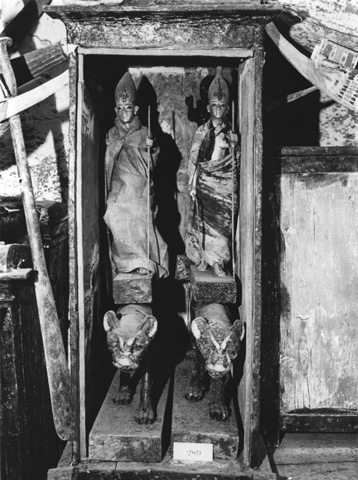 I should also mention that this Al Jazeera screen capture shows a soldier uprooted from the great model army of Meseti, from Asyut, which I mentioned above. At least four of these figures appear to have been torn from the 4000 year old model.


UPDATE, 31st Jan 11am:
In the comments, Mellady mentions that two of the gilded Tutankhamun statues, which are mentioned above shown wearing the crowns of Upper and Lower Egypt (the ones *not* on the papyrus boat or the panther), are probably still on tour in the USA with the 'Tutankhamun and the Golden Age of the Pharaohs' tour. You can see photos of the statues in questions on at these exhibition links. The exhibition was just in New York until January 17th, 2011, and it's due to open again in St. Paul, Minnesota on February 18th, 2011. If you factor in the time needed to move the objects and set up the new exhibition space, they must be in one of those cities. I have contacted the exhibition organisers to see if I can confirm this. This would suggest that the broken sandalled feet shown in the Al Jazeera footage belong to the figure of Tutankhamun from the panther statue.
Other objects shown in the footage but difficult to specifically identify appear to include a smashed shabti figurine, a bronze statuette of the Apis bull, a travertine calcite (alabaster) vessel, faience jewellery, and a faience hippo figurine from Lisht. The large wooden statue shown in the screen capture below comes from the Meseti boat model. Another model figure shown in the footag, kneeling and armless, also appears to be from the same model.
There are worrying reports of archaeological sites and museums around the country being targeted but no concrete information as of yet. Nevertheless, I am still inspired and awed by the valiant efforts of ordinary Egyptian citizens taking a stand to protect the heritage of which they are so proud. For whatever damage has been done, it's possible that it could have been much worse without their help. My focus on this site is on the artefacts because that is what I'm best able to comment on, but my thoughts are with the Egyptian people.


UPDATE, 31st Jan 1:40pm:
Via Kate Phizackerley: there is now a photo, purportedly from the Associated Press, showing two damaged mummy heads, posted on this site. I'm not sure about the source of this photo, but the mummies don't look particularly like Yuya or Tjuya. It's possible that severe damage has may them harder to identify, or we could be dealing with different individuals. Also, Dr. Zahi Hawass has reportedly been appointed to the new government position of Minister of Antiquities, and Gaber Asfour has been named Minister of Culture.
UPDATE, 31st Jan 2:50pm:
According to Egyptologist Aidan Dodson, the damaged mummies are very unlikely to be Yuya and Tjuya: 'the gold mummy-cover of Tjuiu was not actually on her body any more… Both mummies were inside their coffins – the photo of Tjuiu shown earlier was from an old display of 1910.'
UPDATE, 31st Jan 3:50pm:
Raw video footage that has emerged on youTube
UPDATE Jan 31st, 11:20pm:
There are a number of reports out there, from various people such as an Egyptian antiquities inspector and Professor Miroslav Bárta, suggesting that there may have been a fair amount of damage at Saqqara & Abusir. However, we don't have much concrete information yet. Dr. Hawass has stated that while tombs have indeed been broken into, nothing has been taken damaged. Vincent Brown's Talking Pyramids site has a very good compilation of all these reports. In terms of following future stories about the archaeological situation in Egypt, Kate Phizackerley has set up a database of information on sites and museums.
UPDATE Feb 1st, 12:45am:
In the comments, Nicko kindly directed me to some new AP photos of damage in the Egyptian Museum. The two new images appear to show a smashed and emptied case in the foreground with a few gilded canes and sticks lying on top. In the background, you can see the display of chariots and off to the right, the huge golden shrines of Tutankhamun. National Geographic now has a higher resolution version of one of the photos, which shows that Tut's gold fan mentioned above is also lying on top of the case. A large number of staff, canes, and sticks were found in Tutankhamun's tomb, shown in the following photos from the Griffith Institute Archive, and it is possible that some these are shown in the images.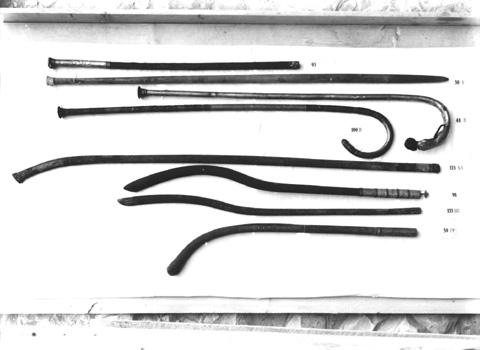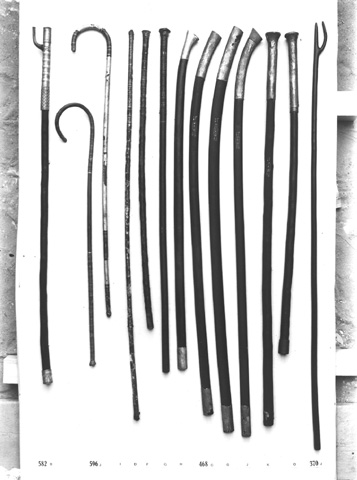 I would also like to thank everyone who has contributed to the discussion in the comments and I'm sorry I haven't had the time to reply to all your remarks!
Dr. Zahi Hawass, Egypt's Minister of Antiquities, released another statement earlier today stating that 288 objects stolen from the magazine in Qantara have been returned. [Considering the magazine reportedly contained 3000 objects, this may not be the best news] He says that 70 objects in the Egyptian Museum suffered damage, including the Tutankhamun panther statue, but it should be possible to repair them. He notes that most of the damage was done because the looters couldn't see what they were doing in the dark. He says that all other museums and sites are now safe, being guarded by the army and also local Egyptians.
An excellent article at The Art of Counting has reports from a number of Egyptologists. The article states that Maarten Raven, an Egyptologist at the Museum of Antiquities in Leiden, says that the Dutch excavation projects at Saqqara have been looted and destroyed. Richard Wilkinson at the University of Arizona says that the army and neighbourhood watch groups are protecting sites on the west bank at Luxor. Carol Redmount at Berkeley states: "Mme Nadia visited El Hibeh today and said the site has been looted, but should be okay from now on as they are expecting guards to be in place. I also heard that Ihnasya el Medinah had been hit. The Beni Suef Museum is safe."
UAE newspaper the National also has varying reports about possible damage at Abusir and Saqqara. A rather sensationalist article in the British tabloid the Sun has reported extensive damage at Abusir and in the magazine in Qantara. Overall, there are very worrying reports, especially from Saqqara and Abusir, but also reassurance about many other sites.
Human Rights Watch's emergencies director Peter Bouckaert is reported to have stated that some of the looters at the Egyptian Museum and elsewhere were found to have been carrying police identification cards. A further approximate 50 individuals have been detained by the army trying to break into the museum.
The Facebook group Egyptologists for Egypt has posted the following information: 'From our Senior Guide. A Sakkara inspector told him that in the last few days Sakkara has been ransacked. Maia is destroyed and even the reliefs in the burial chamber have been hacked out. There is mass digging around the Unas area in particular. The inspector could not get as far as the Teti area as he was threatened with guns but the mastabas will have suffered the same fate. A black day (via P.Allingham).'
This information does not make it clear whether the tomb referred to is that of Maia, wet nurse of Tutankhamun, or that of Maya, the Overseer of the Treasury and Overseer of Works under Tutankhamun. I originally assumed because of the spelling that it was more likely to refer to the lady Maia, but I should stress that with very little information so far, we cannot really be sure. Because of the comments on the damage by the Dutch Mission it seems more likely that Maya's tomb is the one that has been hit. I'm posting information about both tombs below until we can get any further news. Either way, the reports are true, then it seems that artefacts from that particular period of Egyptian history have suffered especially.
Dr. Maarten Raven, the Field Director of the Dutch Mission, has posted this statement: 'There are various reports circulating on the internet about widespread looting in Saqqara and Abusir. However, we would like to stress that so far we have not been able to obtain any confirmation of this, except the following. On Saturday 29 January our restoration architect in Cairo told us that his contractor at Saqqara confirmed the looting in Saqqara. On Sunday 30 January the SCA Director of Saqqara told us that the site of the Dutch expedition has been involved in the looting. He would or could not give further details, and that is still the current situation. We have so far been unable to establish direct contact with people who know more.'
I suggest following the Egyptological Looting Database for further updates on the Saqqara.
The tomb of Maya and his wife Merit was originally discovered by Lepsius in 1843 and then lost until its rediscovery in 1986 by a joint mission of the Rijksmuseum van Oudheden and the EES. Maya served under both Tutankhamun and Horemheb.
Maia was the wet nurse of Tutankhamun and a high ranking woman. Her tomb was discovered at Saqqara in 1997 by Alain Zivie and the French Mission (info in English). The following video shows scenes from the tomb of Maia with Alain Zivie.
No further news of sites being attacked today, hopefully this is a good sign, but there have been a few note-worthy posts on the Facebook group Restore + save the Egyptian Museum, which I'd recommend following for updates directly from Egyptologists, some relayed from the field. I'm posting screen captures of them below: another report of Saqqara looting, a pledge by Dr. Salima Ikram in Egypt to gather further info about sites, and an impassioned plea from Tahrir Square by a member of the group. Also, the IAE has posted this statement and Dr. Mark Lehner, director of the Giza Plateau Mapping Project, is still planning to head out to Egypt next week.

Peter Allingham reports on behalf of Dr. Salima Ikram from Saqqara, again from the very helpful Facebook group Restore + save the Egyptian Museum:

Dr. Zahi Hawass has posted another statement reassuring everyone about the safety and security of the museum and other sites, and has uploaded photos from the museum showing the heavy security in place. Dr. Hawass also expresses his frustration with reports of damage elsewhere, which he insists is not true, including Saqqara. I hope he will understand that the only reason everyone is concerned about possible damage is because of our love for Egypt and its incredible antiquities. The photos on Dr. Hawass' site also include a new image of one of the damaged mummies' heads (still unidentified) and the broken vitrine with the fan and canes.
A news update from the Dutch excavation team at Saqqara:
'Thursday 3 February 14:00 – A reliable source in Cairo (who had this directly from one of the SCA inspectors at Saqqara) confirmed that the Czech magazine at Abusir and the Cairo University magazine at Saqqara have been looted. No confirmation could be had about private tombs. Apparently doors have been forcibly opened but whether reliefs have been taken is not clear. The inspectors themselves have not yet had access to all parts of the site.'
A story from the Times of Algeria posted by Kate says that two pharonic statues were found in the possession of four individuals who have now been arrested. There are no images or further details so the identification of the statues might not necessarily be accurate.
Two reports from CultureGrrl and Science said to be from unnamed Egyptologists say that there has been a lot of damage in Saqqara and Abusir, while another statement from Dr. Zahi Hawass says that the reports are untrue.
A report from the Hungarian team at Lahun says there has been some illicit digging in the Fayum area but an attempted looting of Karanis magazine was stopped by the SCA and local Egyptians.
The story from Algeria yesterday about smuggled stolen Egyptian statues being found turns out only to involve fakes, which is apparent from the new photo that has been posted.